TT-Line Nils Holgersson
Welcome on board of our Green Ship Nils Holgersson. Start your vacation as comfortable as possible.

Welcome on board of our Green Ship Nils Holgersson
Our TT-Line Green Ship Nils Holgersson offers 239 modern and comfortable cabins in various categories for around 800 passengers. On more than 3500 square meters of public areas such as the restaurant, the family lounge, the coffee lounge, the bar and the nearly 1200 square meter outside deck, the crossing with our Green Ship is a real experience.
Our ship was named after the popular main character from the children's story "Nils Holgersson's wonderful journey through Sweden". It was first published in 1906 by the Swedish author Selma Lagerlöf. In it, the story is about the boy Nils from Skåne in southern Sweden, who is lazy and mischievous. For this reason, he is turned into a Thumbelina and flies across Sweden on the back of a goose. After many travel adventures, he returns and is turned back into an ordinary boy because of his bravery and courage.
"Once there was a boy. He was, let us say, something like fourteen years old; long and loose jointed and towheaded. He wasn't good for much, that boy. His chief delight was to eat and sleep, and after that he liked best to make mischief."

Selma Lagerlöf , Nils Holgersson
Our sustainable TT-Line Ships
Our Green Ship Nils Holgersson VII entered service in 2022. With a length of 230 metres, our Nils Holgersson is - together with her sister ship Peter Pan - the longest ship in the TT-Line fleet. The order for the newbuilding was placed with the Chinese shipyard Nanjing Jinling. This forward-looking ferry offers a comfortable ferry experience, which, together with many investments in environmentally friendly technologies, enables the greatest possible sustainable travel and travel experience.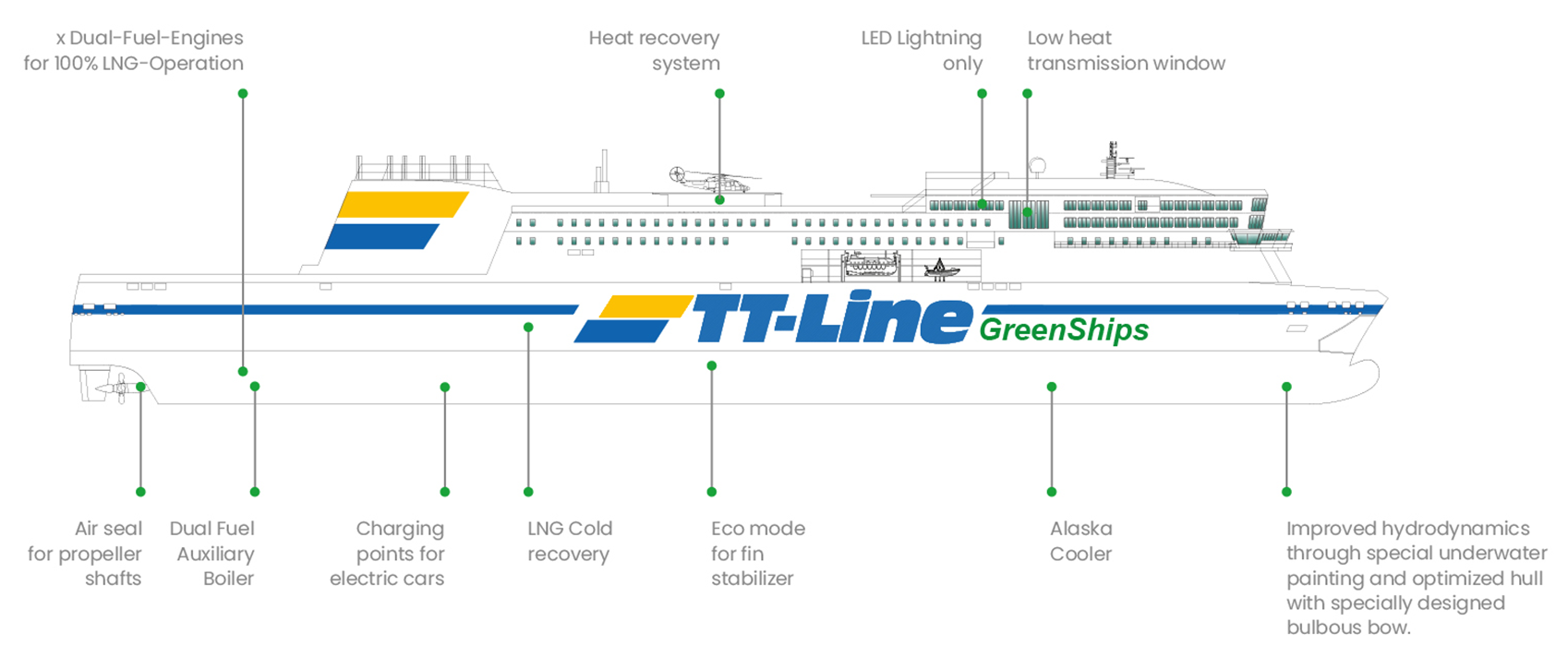 | | |
| --- | --- |
| Deck 1 | Loading Deck |
| Deck 3 | Loading Deck |
| Deck 5 | Loading Deck |
| Deck 7 | Loading Deck |
| Deck 9 | Cabins, Sauna |
| Deck 10 | Cabins, Restaurant, Bar, Driver's Restaurant |
| Deck 11 | Restaurant, Sun Deck, Shop, Sports Bar, Family Lounge, Kids Area, Coffee Lounge, Trucker Lounge, Conference rooms, Pet Lounge |
| Deck 12 | Panorama Deck |
| | |
| --- | --- |
| Deck capacity | 4.000 Lane Meter, 300 Trailer |
| Lane width | 3.10 m |
| Clear height cargo bay | 4.70 m |
| Max. free with bow ramp: | 6.00 m |
| Max. truck axle load | 17,5 tons |
| Electrical connections | 150 reefer-plugs |
| Passengers | 800 |
| Cabins | 239 |
| Berths | 644 |
| | |
| --- | --- |
| Year of Construction | 2022 |
| Gross tonnage | 56.138 BRZ |
| Overall length | 230.0 m |
| Beam | 31.0 m |
| Draft | 6.7 m |
| Deadweight capacity | 10.921 dwt |
| Speed | 22 knots |
| Output | diesel-mechanical, 14.700 kW per side |
| Bow thrusters | 3x2.500 kw |
| Stabilizers | Yes. |
Electromobility on board
Up to 32 charging stations are available on board of our Nils Holgersson. We want to offer our customers a sustainable travel experience - charge comfortably your electric vehicle during the crossing for your further journey.
Electromobility on board

Read more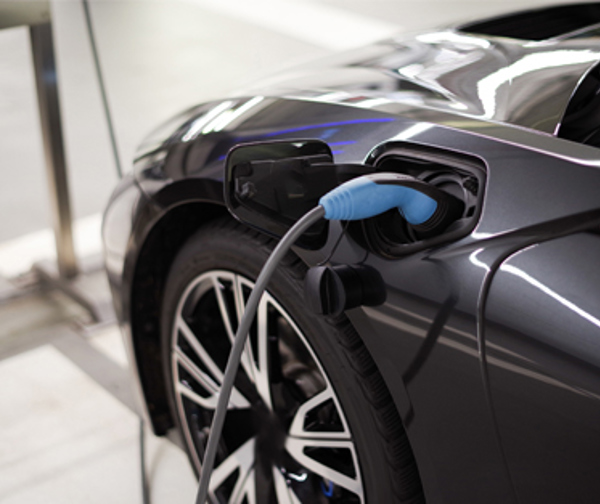 The Ship
Comfortable cabins

Comfortable cabins

A total of 239 modern and comfortable cabins in different categories are available to our passengers on the new Green Ship. Each cabin is equipped with a TV, hairdryer and plugs .The particularly spacious outside cabins have large window fronts and thus allow an excellent view of the Baltic Sea. Special cabins are available for people with allergies.

Have a good time!

Have a good time!

One of the most beautiful areas on the new Green Ship will be the almost 1,200 sqm outdoor area, which invites you to linger in the fresh Baltic Sea air with sufficient seating and lounging possibilities.If the weather doesn't play along, there is still a lot to experience! So you can relax in our sauna or use the time for a shopping spree in our TT-Line shop. In addition, the modern and innovative music system ensures an exuberant atmosphere throughout the ship.

Enjoy the crossing

Enjoy the crossing!

The new Green Ship offers an romantic and cosy atmosphere with natural colours and a well thought-out lighting concept. The large window fronts allow an excellent view of the Baltic Sea and the outer deck with an area of around 1,200 m² also offers enough space and seating areas to relax. In our TT-Line shop you will find a large selection of souvenirs, cosmetic products as well as TT-Line and Sweden souvenirs. Of course, even the youngest explorers on board are not neglected and will find their own large play area, which parents can see from the lounge area.

Food on board

Smaklig måltid & Skål

On our new Green Ship, everyone gets their taste. Whether buffet or a dish from our varied menu, we spoil you with Swedish specialties, modern snacks and many other delicacies. In our beautiful restaurants, our cozy coffee lounge or atmospheric bar you can enjoy the crossing with the best view of the Baltic Sea with delicious food and refreshing drinks!