Save now 15% on crossings to Sweden with your motorcycle. Book until 23.04.2023 with the campaign code BIKERS15.

Port and check-in information
Klaipeda is the largest port in Lithuania. On July 9, 2018, TT-Line opened its newest service between Trelleborg and Klaipėda. The port is the easternmost destination of the TT-Line route network and is served several times a week. With its own terminal and good connections to the city, you can have maximum comfort during your trip to the Baltic States.
Boarding for Vehicles
When you arrive at the port area, you have to check in at the port terminal.
If you want to save some time at the Self-Check in, you can check in online beforehand. How to do that, can be read here.
Click here to go directly to the Online Check in platform.
Once you have passed the Check in, please follow the directions to your correct ferry dock.
Your boarding pass will indicate which lane you should be in. Please stick to it.
Boarding begins as soon as the port staff initiates it. Please follow the instructions of our crew.
If you parked your vehicle on the ferry, take all your package with you and leave nothing unattended. During the crossing the vehicle decks are locked and not accessible!
Boarding for Foot Passengers
Please chek in at the terminal Minijos g. 180, 93269 Klaipėda
Afterwards please wait inside the building in the designated area for the shuttle bus, which will take you to the ship in good time before departure.
If there are any changes, we will inform you about them at the Check in. Please pay attention to the loudspeaker announcements when the ship arrives. They will tell you which deck you can disembark from.

Opening hours
Tuesday
04:20 p.m. - 08:00 p.m.
Thursday
03:20 p.m. - 07:00 p.m.
Saturday
07:20 a.m. - 11:00 a.m.
08:50 p.m. - 00:30 a.m. (Sunday)
Sunday
08:50 p.m. - 11:55 p.m.
Combi Ticket
With the Combi ticket you can travel comfortably from Germany to Lithuania or the other way around. Here you will have a stopover in Trelleborg (except for the departure from Rostock on Friday evenings). You can find more information about the ticket here.
Check in is in the respective terminal building in the port of departure. Here you will receive your travel documents (e.g. boarding passes and cabin keys) for your booked journey.
Please place the cards you have received in a clearly visible place behind the windscreen of your vehicle.
When you have to change the vessel in Trelleborg (Sweden), a vehicle will be waiting to guide you through the port to your connecting ferry.
You can leave the port in Trelleborg during your stopover. To do so, follow the signs to the port exit. Please be back in the loading lane at least 30 minutes before your onward journey.
Self Check in at the ticket machines is not possible for this ticket variant! Travelling without vehicles are not allowed on this route.
The Check in for crossings from Klaipėda to Sweden and to Germany closes 120 minutes prior depature.
Important to know:
Generally Check in is open around 2 hours prior to departure
On certain departures in low season, the boarding could start at a later time
The Check in for our group passengers closes 60 minutes prior to departure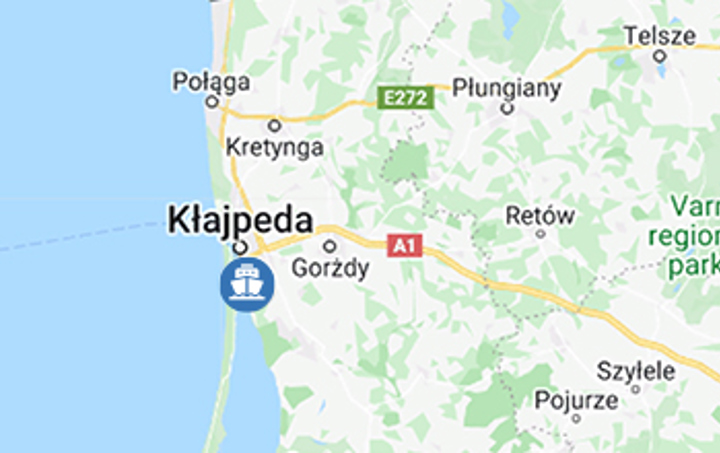 TT-Line Port Klaipėda
TT-Line Terminal
Minijos g. 180
93269 Klaipėda
Litauen
Arriving with vehicles
Coming from the north Highway A13: Turn onto A1 and take the exit to Taikos pr. At the next roundabout take the exit to Statybininku pr. Turn left onto Minijos gatven. Follow Minijos gatven to the end and turn right to the TT-Line terminal.
Coming fom the east Highway A1: Same directions as written above.
Coming fom the south Nationalstreet 141: Turn left onto Lanko gatve and then right onto Rimkų g. Continue along Šilutės Street. Turn right onto Jūrininkų pr. Follow the road for 3.2 km to the TT-Line terminal.
Arriving by public transportations
The cheapest and easiest way to get to the terminal is by taxi. It will take you directly to our terminal.
Frequently asked questions
Where can I park my vehicle?

You can leave your car right in front of the Check in office. There is a big parking lot.

How can I pay for my booking?

You can pay your booking with PayPal, Visa Card, Master Card and Diners Club International.

Is there a possibility to eat something at the harbour?

There is only a vending machine with hot beverages and snacks at the Check in office. But if you drive 2 km further, there is a big shopping center with cafés and restaurants.

Are there bathrooms and showers at the harbour?

You find bathrooms inside the Check in office, but showers are not available.

Do I need an ID Card or a passport to check in?

When travelling with TT-Line, a valid passport or a valid National Identity Card including a picture (for EU citizens only) will have to be presented at the Check in or on board. Please note that children require a children's identity card.