Port and check-in information
With a total area of 749,000 m² and a quay length of 2,065 m, "Skandinavienkai" in Travemünde is one of the largest ferry ports in Europe. It has a connection to intermodal traffic, a truck workshop, a large public truck parking, sanitary facilities and an ideal connection to the A1 motorway.
Boarding for vehicles
When you arrive at the port of Travemünde by car or bicycle, you check in at our self-check-in machines. Here you will find instructions for self check-in.
If you want to save some time at the Self-Check in, you can check in online in advance. You can read here how to do that.
After you have passed the Check-in, follow the directions to your correct ferry port.
Your boarding pass will tell you which lane you should be in. Stick to it.
Boarding begins as soon as port personnel initiate it. Follow the instructions of our crew.
If you have parked your vehicle on the ferry, please take all your package with you and do not leave anything unattended. During the crossing, the vehicle decks are closed and not accessible!
Attention: It is mandatory to wear a safety vest when cycling through the harbor to the ferry.
Boarding for foot passengers
Please wait in the basement of the harbor building in the designated area for the shuttle bus, which will take you to the ship well before departure.
Foot passengers can only be transported for departures and arrivals between 06:00 and 12:00 at the port of Travemünde.
If there are any changes, we will inform you at check-in. Watch for the loudspeaker announcements when the ship arrives. They will tell you which deck to disembark from.

Opening hours

Monday
06:00 p.m. - 02:30 a.m.
Tuesday - Thursday

07:00 a.m. - 11:00 a.m.
12:00 a.m. - 16:00 p.m.
06:00 p.m. - 02:30 a.m.

Friday
07:00 a.m. - 11:00 a.m.
06:00 p.m. - 02:30 a.m.
Saturday

07:00 a.m. - 10:00 a.m.
06:00 p.m. - 01:30 a.m.

Sunday

07:00 a.m. - 10:00 a.m.
06:00 p.m. - 03:00 a.m.
Combi Ticket
With the Combi ticket you can travel comfortably from Germany to Lithuania. Here you will have a stopover in Trelleborg (except for the departure from Rostock on Friday evenings). You can find more information about the ticket here.
Check in is in the respective terminal building in the port of departure. Here you will receive your travel documents (e.g. boarding passes and cabin keys) for your booked journey.
Please place the cards you have received in a clearly visible place behind the windscreen of your vehicle.
When you have to change the vessel in Trelleborg (Sweden), a vehicle will be waiting to guide you through the port to your connecting ferry.
You can leave the port in Trelleborg during your stopover. To do so, follow the signs to the port exit. Please be back in the loading lane at least 30 minutes before your onward journey.
Self Check in at the ticket machines is not possible for this ticket variant! Travelling without vehicles are not allowed on this route.
Check-In Times
Check-in is usually open approximately 2 hours prior to departure
Check-in closes 30 minutes prior to departure
Check-in for our group passengers closes 60 minutes prior to departure
For certain off-season departures, boarding may begin later
Please note: The same check-in times apply even if you have already checked in online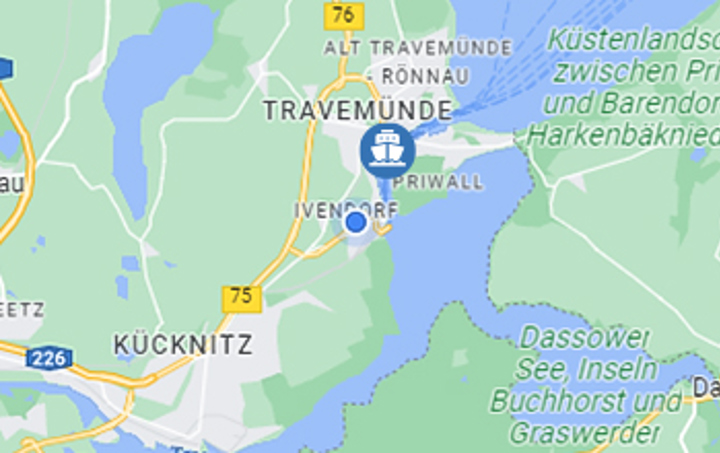 TT-Line Port Travemünde
Port of Travemünde
Skandinavienkai
Zum Hafenplatz 1
23570 Lübeck-Travemünde
Arriving with Vehicle
Coming from the south via the A1 motorway, you simply follow the signs to "Lübeck-Travemünde Skandinavienkai" via the A226. The "Skandinavienkai" exit will then automatically take you to the TT-Line ferry terminal.
Arriving by Public Transportations
You can go to Travemünde, Skandinavienkai by Deutsche Bahn AG via Lübeck Hauptbahnhof (main station) to the stop "Lübeck-Travemünde Skandinavienkai", from there take the bus line 30, 31 or 40 directly to the stop "Skandinavienkai Terminal".
Frequently asked questions
Where can I park my vehicle?

In Travemünde you have the possibility to leave your car on a parking lot at the harbour, which has to be paid.

How can I pay for my booking?

You can pay your booking with PayPal, Visa Card, Master Card and Diners Club International.

Is there a possibility to eat something at the harbour?

You can find the restaurant "Hausgemacht" on the ground floor of the "Hafenhaus" where you can buy hot meals. They are open from 07:30a.m. – 14:00 p.m. (Monday-Friday). Right next to it is a shop that allows you to stock up your luggage with e.g. snacks, drinks or cosmetics, before heading into the harbor.

Are there bathrooms or showers at the harbour?

You find toilets in the harbour terminal. There are also showers for truckdrivers, if you want to.

Do I need an ID Card or a passport to check in?

When travelling with TT-Line, a valid passport or a valid National Identity Card including a picture (for EU citizens only) will have to be presented at the Check in or on board. Please note that children require a children's identity card.
from 78 €
15 % cabin discount
From Travemünde
Enjoy a relaxing journey on bord our Sweden ferries at a fantastic price. That's how to start a vacation.
Return Package Travemünde.

Read more