Bookable until 05.06.2023: Save now 20% on our return packages: Family Package, Camper Package, Return Package and Package for Two!

Port and Check in information
The port of Świnoujście is one of the most important transhipment hubs in Poland and along the Baltic coast. Since January 2014 TT-Line offers a combined freight and passenger service between Świnoujście and Trelleborg. The ideal location of the port provides various opportunities for families, friends and couples to go on vacation.
Boarding for Vehicles
When you arrive at the port area, you have to check in at the port terminal.
If you want to save some time at the Self-Check in, you can check in online beforehand. How to do that you can read here.
Click here to go directly to the Online Check in platform.
Once you have passed the Check in, please follow the directions to your correct ferry dock.
Your boarding pass will indicate which lane you should be in. Please stick to it.
Boarding begins as soon as the port staff initiates it. Please follow the instructions of our crew.
If you parked your vehicle on the ferry, take all your package with you and leave nothing unattended. During the crossing the vehicle decks are locked and not accessible!
Boarding for Foot Passengers
Please check in at the TT-Line office at least one hour prior to departure. Approximately 30 minutes prior to departure, you will be accompanied by our security staff to your Sweden ferry.
The office is open from Monday to Friday from 08:00 a.m. to 06:00 p.m.
If there are any changes, we will inform you about them at the Check in. Please pay attention to the loudspeaker announcements when the ship arrives. They will tell you which deck you can disembark from.

Opening hours
Monday
08:00 a.m. - 06:00 p.m.
Tuesday
06:00 a.m. - 06:00 p.m.
06:00 p.m. - 02:00 a.m. (Wednesday)
Wednesday
08:00 a.m. - 06:30 p.m.
Thursday
08:00 a.m. - 06:00 p.m.
Friday
03:00 a.m. - 06:00 a.m.
06:00 p.m. - 01:00 a.m. (Saturday)
Saturday
10:00 a.m. - 06:00 p.m.
Sunday
03:00 a.m. - 06:00 p.m.
06:00 p.m. - 01:00 a.m. (Monday)
The Check in for crossings from Świnoujście to Sweden closes 60 minutes prior to departure.
Important to know:
Generally Check in is open around 2 hours prior to departure
On certain departures in low season, the boarding could start at a later time
The Check in for our group passengers closes 60 minutes prior to departure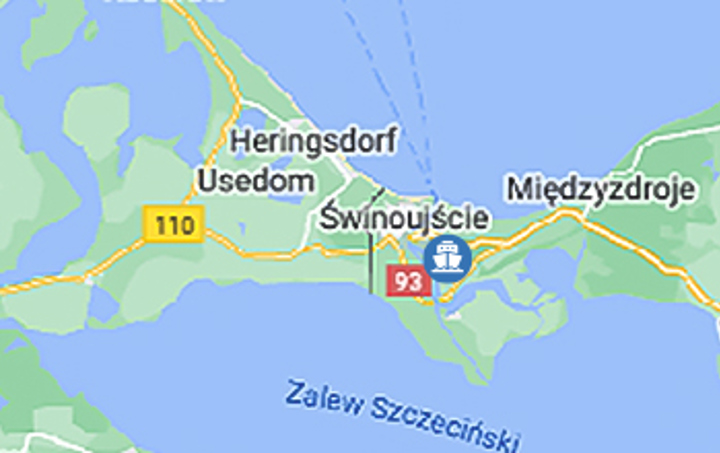 TT-Line Port Świnoujście
Terminal Promowy
ul. Dworcowa 1
72-600 Świnoujście
Arriving with vehicle
Coming from the direction of Berlin, follow the A11/ E28 to the Goleniów interchange. Afterwards follow the E65 to the port.
Coming from Lübeck/ Hamburg, take the A20 motorway in the direction of Rostock to the exit 27- Gützkow, follow the B111/ 110 in the direction of Świnoujście. Continue on the DK 93 in the direction of Karsibòr and take the Karsibòr-Świnoujście ferry. Finally our terminal is only a few minutes away.
Arriving by public transportations
Direct arrival by train is possible from Germany via Berlin and Szczecin.
We would like to emphasize that the port of Świnoujście can only be reached by a feeder ferry from Usedom. Your journey to the ferry port may therefore take a little longer. There are 2 feeder ferries in Świnoujście. Please use the Kasibor-Świnoujście, as some of the other feeder ferries can only be used with a special permission.
Frequently asked questions
Where can I park my vehicle?

Car parking in front of the terminal is only allowed for one hour. Further away is a parking lot, where car parking is allowed for a longer time.

How can I pay for my booking?

You can pay your booking with PayPal, Visa Card, Master Card and Diners Club International.

Is there a possibility to eat something at the harbour?

There are no restaurants or cafeterias at the harbour. But there is a supermarket outside the harbour area. Otherwise you can drive downtown, since the city center is only a few minutes away. Świnoujście has a lot of cafés, restaurants and bars.

Are there bathrooms and showers at the harbour?

You find toilets in the harbour terminal.

Do I need an ID Card or a passport to check in?

When travelling with TT-Line, a valid passport or a valid National Identity Card including a picture (for EU citizens only) will have to be presented at the Check in or on board. Please note that children require a children's identity card.