COVID-19 Travel Advice Sweden
The safety of our customers has our fullest attention and is always our top priority.

COVID-19 Travel Advice for Sweden
The safety of our customers has our fullest attention and is always our top priority! On this page you will find all important and necessary information regarding your crossing to Sweden and the corona regulation within Sweden.
We have also implemented a hygiene concept on board to ensure a safe and comfortable crossing for our passengers. Here you can find our measures onboard.
In contrast to other EU countries, the Swedes follow a comparatively relaxed strategy in dealing with the coronavirus pandemic. Public life has not come to a standstill, making the overall social and economic situation more relaxed. The Swedish Government relied on the recommendations and personal responsibility from the start.
Who is generally permitted to enter Sweden?

An entry for travellers from Germany and other EU countries, Switzerland and Lithuania is still permitted. Citizens from Non-EU countries are not allowed to enter Sweden until further notice. Exceptions are made for truck and bus drivers traveling in their profession.

Sweden do not have a general curfew restriction that require people to remain indoors between specified hours.

Which are the entry requirements for entering Sweden?

Detailed information about international travel restrictions are available on the website of the Swedish Ministry for Foreign Affairs (UD).

From 21. January 2022 on a COVID-19 test is no longer required for fully vaccinated and recovered persons when entering Sweden. Unvaccinated persons must still provide a negative COVID-19 test when entering Sweden. PCR, Antigen or LAMP tests are accepted.

The test must not be older than 72 hours at the time of entry.

The test certificate must contain the following information:

Name of the person tested
Date of the test
Type of the test
Test result
Issuer of the certificate

The test certificate is only accepted in English, Swedish, Norwegian, Danish or French.

It is important to take the test before entering the country, since there is no possibility to be tested upon arrival in Sweden. Exceeding the 72 hour rule may lead to a rejection at the border.

Who is exempted from the test obligation?

Children who are under 12 years of age
Permanent residents of Sweden
Swedish citizens

Which COVID-19 tests are accepted for entering Sweden?

Generally, methods of nucleic acid amplification technology (PCR, LAMP, TMA) and antigen tests are accepted. Rapid antigen tests are accepted if they meet the minimum criteria recommended by the WHO. Antibody tests are not accepted.

The respective certificates are only accepted in English, Swedish, Norwegian, or Danish. For further information please visit the Swedish Polisen page

Are there any border controls?

In the port of Trelleborg, in addition to passport controls, there may also be entry controls and health checks with temperature measurements. Persons with any kind of corona symptoms will be stopped at the border.

Which consequences will a positive test result have?

Do not travel if you show any Coronavirus symptoms! In case of a positive COVID-19 test result before entering or returning to Sweden act according to the local recomendations of when you are no longer considered to be infectious. There is a risk that you will not be allowed to enter Sweden if you:

show any kind of Coronavirus symptoms
have had a positive test result
have been around someone who has been tested positive.

In these cases, the Government may impose an entry ban to Sweden and other precautionary measures that limit the possibility to travel to Sweden.

Furthermore, according to the Federal Government's decree, we as carriers are not allowed to transport persons without a negative Corona test result

Contact your local health authority, which can grant further exceptions for individual cases and for specific reasons and thus grant permission for carriage
Do I have to wear a mouth-nose protection?

Generally, there is not obligation to wear a face mask permanently.

However a face mask is mandatory when using public transport weekdays from 7 a.m. – 9 a.m. and from 4 p.m. – 6 p.m. where no seat are offered.

Is it allowed to meet with other people?

Private meetings with another household are possible. In total, no more than eight people may meet at one time. This also applies to meeting in public.

What are the current restrictions in public life?

Due to the current development of the COVID-19 situation a temporary pandemic law applies until September 2021. As a result, certain activities that are not covered by other infection control legislation may be closed or restricted.

Symptom-free persons are generally allowed to move freely around the country
Public gatherings and events may have a maximum of eight participants
Distance regulations apply in public spaces like restaurants, bars, and pubs
The serving of alcoholic beverages is prohibited between 8 p.m. and 11 a.m.
Table service of food and drink is not allowed after 8:30 p.m. Takeaway may be offered after 8:30 pm
Facilities such as libraries, swimming pools, museums and amusement parks are closed or have restricted opening hours and access restrictions
Hotels, camping, and mountain cabins are open with restrictions

In addition, the distance and hygiene rules continue to apply nationwide. Compliance with a minimum distance of 1.5 m that must be ensured at all time.

For further information about the current coronavirus restrictions in Sweden please visit Restrictions and prohibitions - Krisinformation.se
Which requirements do I need to consider when returning to Germany?

Sweden is classified as a high-risk area from January, 9th.

The return journey from Sweden is possible without any problems. Nevertheless, please note that a digital registration and a proof of complete vaccination, recovery or a negative rapid test or PCR test, which is not older than 48 hours, must be available upon entry.

The Digital Entry Registration must be filled out before entering the country. You will receive a confirmation, which must be available at border controls, if necessary. Additionally, the status of vaccination or recovery is also requested within the registration. As soon as the status of vaccination or recovery is transmitted, there is no quarantine obligation anymore.
The same applies to the transmission of the negative test result for non-vaccinated persons. But the test can take place the earliest on the 5th day after entering Germany. For that reason, the quarantine period is at least 5 days long.

Generally, a proof of vaccination or recovery or a negative test certificate is still required for all persons older than 6 years, when entering Germany.

More information can be found on the website of the German Federal Foreign Office.

Which exceptions apply?

Exceptions:

Children under 6 years

Travelers, who have only passed through a high-risk area and have not had a stopover there
Persons, who are only passing through Germany and are leaving the country by the fastest possible route
People, who have been in a high-risk area for less than 24 hours as part of border traffic or who are only entering Germany for 24 hours
Frequently asked questions
Where can I get tested?

Trelleborg
In the port of Trelleborg you have the possibility to get tested in the check-in area. You do not need to register before. It is a drop in test station.

InnoVacc Trelleborgs Hamn at the check-in terminal.

Opening hours:
Monday-Thursday: 08:00 a.m. to 12:00 a.m.
Friday: 08:00 a.m. to 12:00 a.m.
Saturday: 08:30 a.m. to 12:00 a.m.
Sunday: 09:00 a.m. to 11:00 p.m.

You can find detailed information here.

Travemünde
So far, there is no test station in the port of Travemünde. Here you will find an overview of all test stations in Lübeck and the surrounding area.

Rostock
There is no test centre in the port of Rostock so far. The nearest test centre is located in the shopping centre "Rostocker Hof" in Rostock city centre. It is possible to make an appointment online.

Centogene
Galerie Rostocker Hof
1. Obergeschoss, Laden Nr. 32
Kröpeliner Str. 26-28
18055 Rostock

Opening hours:
Monday to friday 08:00 a.m. to 04:00 p.m.

You can find detailed information here.

Klaipėda

You have the possibility to get tested in the check-in area in the port of Klaipėda.

Therefor it's necessary to make an appointment under https://www.testamide.lt/registracija/. Please choose the city (Miestas) Klaipėda and the place of testing (Testo atlikimo vieta) Uostas Klaipėda Minijos 180.

The test station closes one hour prior to departure.

What should I pay attention to when booking a new crossing?

Use our Flexibility add-on for full flexibility. If you book the FLEX option, you can change or cancel your crossing up to 24 hours before departure without any fees

For the necessary comfort we recommend booking a cabin, here you will find a suitable offer

Book comfortable and easy online

Who can I contact if I have any questions?

Contact our team preferably via our contact form

For bookings within the next 72 hours, please contact us by phone at 0180 66 66 600 (German landline 20 ct./call; German mobile phone max. 60 ct./call)

Requests are answered Monday to Friday from 08:00 a.m to 06:00 p.m. according to the date of submission.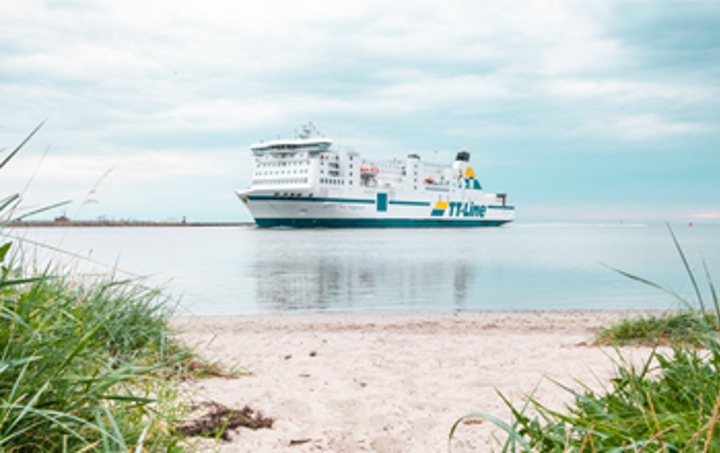 TT-Line crossings
The ferries from TT-Line operate normally despite the coronavirus outbreak!
All our ferries sail according to our sailing timetables.
Flexibility add-on
Book our Flexibility add-on and plan your holiday with full flexibility and without worries! With the TT-Line Flexibility add-on, you have the opportunity to make all our tariffs even more individual. You can change and cancel your booking up to 24 hours before departure free of charge.