COVID-19 Travel Advice Lithuania
The safety of our customers has our fullest attention and is always our top priority.

COVID-19 Travel Advice for Lithuania
The safety of our customers has our fullest attention and is always our top priority! On this page you will find all important and necessary information for your crossing to Lithunia and the corona regulation within Lithuania.
We have also implemented a hygiene concept on board to ensure a safe and comfortable crossing for our passengers. Here you can find our measures onboard.
Who is generally permitted to enter Lithuania?

As of 1 June, the entry into the Republic of Lithuania is only allowed for locals, citizens of the countries of the European Economic Area, the Swiss Confederation and of the United Kingdom of Great Britain and Northern Ireland, and persons lawfully residing in these countries, who arrive from these countries.
The list of such countries shall be approved and made public every Monday by the State Commander of National Emergency Operations in Lithuania.

What are the entry requirements for entering Lithuania ?

Generally:

All persons entering Lithuania are required to register with the National Public Health Center. This registration must be done no earlier than 48 hours before arrival. Please have the QR code available when boarding.



Entry from Germany, Poland, Norway and Latvia:

There is a testing and quarantine requirement.
Persons who are already fully vaccinated or considered recovered do not have to provide proof of a test and are not required to be in quarantine.
In general, people aged 16 and over must prove a negative test and be quarantined for 10 days if they are not fully vaccinated or recovered.

Entry from Sweden and Denmark:

There is no quarantine obligation
Upon entry a negative Corona test and proof of a complete COVID-19 vaccination or recovery from COVID-19 disease within the last 180 days must be available.

Exempt from the testing and quarantine obligation:

People who have already had the virus or have already been fully vaccinated do not need to be tested or quarantined, as long as it is possible to provide a medical certificate or vaccination certificate (in one of the official languages of the European Union) to confirm that COVID-19 disease has been present within the last 180 or that they have already been fully vaccinated.
Children under 7 years of age are exempt from testing and quarantine obligations.
Children from 7 to 16 years of age are exempt from quarantine if a negative COVID-19 test can be presented.
If a test would be made already in Lithuania, quarantine is compulsory until the test result is presented.

Further infromation can be found on the website of the Ministry of Health of The republic of Lithunia.

What regulations apply if I cannot present a negative test upon entry?

In case of not having a negative COVID-19 test, it is necessary to fill in the this document for the National Public Health Centre, where your passenger data will be verified and registered for testing at the mobile coronavirus testing site. It is recommended to register for the test on the Coronavirus Hotline 1808 (the number is only working in Lithuania) in advance.

Are there any border controls?

In the port of Klaipeda, in addition to passport controls, there may also be medical-quarantine control after arrival. Persons with any kind of corona symptoms will be stopped at the border.

Which COVID-19 tests are recognized for entering Lithuania?

Generally, methods of nucleic acid amplification technology (PCR, LAMP, TMA) and antigen tests are recognized. Rapid antigen tests are recognized if they meet the minimum criteria recommended by the WHO. Antibody testing is not recognized.
Do I have to wear a mouth-nose protection?

Face masks are not required in open spaces, where there are no other people except family members within the radius of 2 metres. In common areas of accommodation facilities and indoors a mouth-nose protection is mandatory.

Is it allowed to meet with other people?


Meetings with people from other families or households are prohibited or subject to strict conditions. Exceptions are made for stays and walks outside. It will be allowed to be in public places outdoors in groups of maximum 5 persons or in groups of two families and/or two households.

Are shops and supermarkets open?

Most of the supermarkets, pharmacies, shops and shopping centres are open. Minimum distance, capacity and hygiene requirements continue to apply. Restaurants are only allowed to sell out-of-home.
What are the returning requirements to Germany?

Since 3 October Total Lithuania has been considered a high-risk area.
Therefore, the following must be observed when entering and returning to Germany:

The entry form must be filled out before entering the country.
A general obligation to provide proof applies. This means that a negative test result, proof of recovery or proof of vaccination must be presented upon entry.
Those who cannot provide proof must enter a ten-day domestic quarantine, which can be terminated with proof of the above-mentioned points.

Antigen rapid test (not older than 24 hours) and PCR tests (not older than 48 hours) are accepted. The entry application and the proofs should already be available at the check-in.

Please also inform yourself about the respective entry regulations of your country.

Which exceptions apply?

Children under 12 years are exempt of the test obligation.
Frequently asked questions
Where can I get tested?

Trelleborg
In the port of Trelleborg you have the possibility to get tested in the check-in area. You do not need to register before. It is a drop in test station.

InnoVacc Trelleborgs Hamn at the check-in terminal.

Opening hours:
Monday-Thursday: 08:00 a.m. to 12:00 a.m.
Friday: 08:00 a.m. to 12:00 a.m.
Saturday: 08:30 a.m. to 12:00 a.m.
Sunday: 09:00 a.m. to 11:00 p.m.

You can find detailed information here.

Travemünde
So far, there is no test station in the port of Travemünde. Here you will find an overview of all test stations in Lübeck and the surrounding area.

Rostock
There is no test centre in the port of Rostock so far. The nearest test centre is located in the shopping centre "Rostocker Hof" in Rostock city centre. It is possible to make an appointment online.

Centogene
Galerie Rostocker Hof
1. Obergeschoss, Laden Nr. 32
Kröpeliner Str. 26-28
18055 Rostock

Opening hours:
Monday to friday 08:00 a.m. to 04:00 p.m.

You can find detailed information here.

Klaipėda

You have the possibility to get tested in the check-in area in the port of Klaipėda.

Therefor it's necessary to make an appointment under https://www.testamide.lt/registracija/. Please choose the city (Miestas) Klaipėda and the place of testing (Testo atlikimo vieta) Uostas Klaipėda Minijos 180.

The test station closes one hour prior to departure.

What should I pay attention to when booking a new crossing?

Use our Flexibility add-on for full flexibility. If you book the FLEX option, you can change or cancel your crossing up to 24 hours before departure without any fees.

For the necessary comfort we recommend booking a cabin, here you will find the suitable offers

Book comfortable and easy online

Who can I contact if I have any questions?

Contact our team preferably via our contact form

For bookings within the next 72 hours, please contact us by phone at 0180 66 66 600 (German landline 20 ct./call; German mobile phone max. 60 ct./call)

Requests are answered Monday to Friday from 08:00 a.m to 06:00 p.m. according to the date of submission.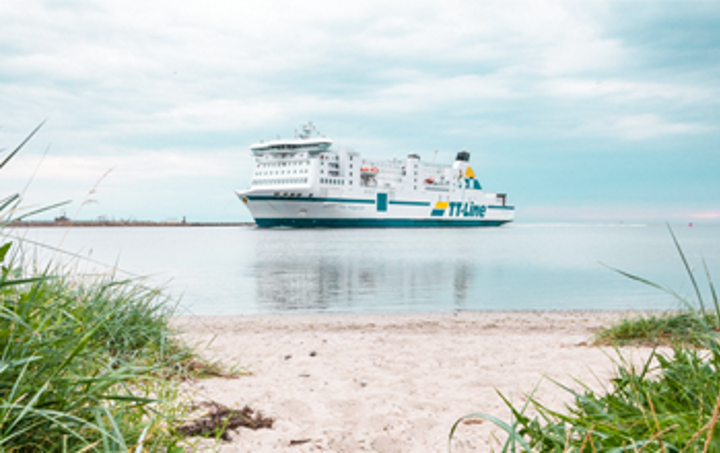 TT-Line crossings
The ferries from TT-Line operate normally despite the coronavirus outbreak!
All our ferries sail according to our sailing timetables.
Flexibility add-on
Book our Flexibility add-on and plan your holiday with full flexibility and without worries! With the TT-Line Flexibility add-on, you have the opportunity to make all our tariffs even more individual. You can change and cancel your booking up to 24 hours before departure free of charge.