Nature & Environment
TT-Line takes its responsibility towards nature and the environment very seriously and can look back on a long tradition, which is characterized by permanent improvement of the environmental balance of ship operations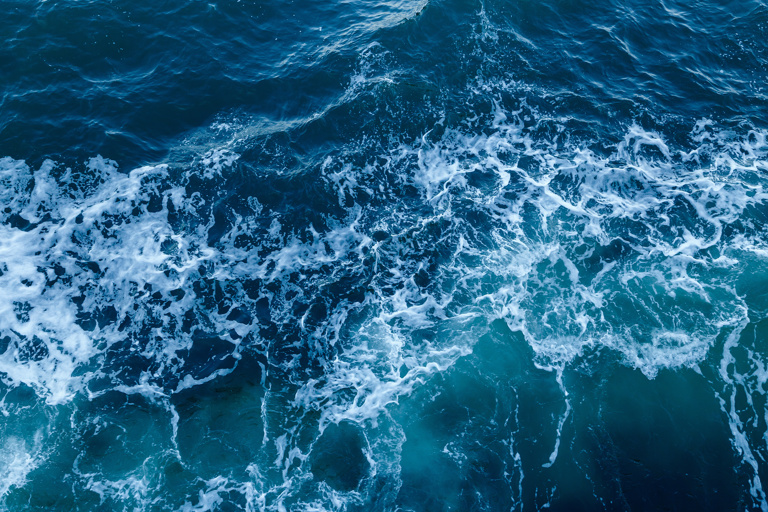 We show responsibility
As a ferry company, we work continuously to improve our environmental balance. Environmentally friendly solutions for ship operation were introduced at TT-Line years ago. The installation of diesel-electric drive systems in the existing fleet achieved a further reduction in pollutant emissions. With streamlined hull shapes and consumption-optimized speed management, the CO2 "footprint" is continuously improved.
In the summer of 2014, TT-Line installed an exhaust wet scrubber system on the ferry Nils Dacke for the first time. In addition to sulfur oxide (SOx), the scrubbers also remove particles from the exhaust gases. TT-Line now uses the wet scrubber system on four of its ferries. Most recently, TT-Line further developed the "Green Ship Concept" and in December 2019 started building the new generation of TT-Line Green Ships - the most environmentally friendly ferries in the company's history.
Ships have the best environmental record
Transport by ship has many advantages: Excellent infrastructure, high reliability, fewer accidents, no traffic jams and less noise. Ships are the most environmentally friendly means of transport. Due to their large transport capacity, ships have the lowest emissions of pollutants per transported load unit compared to trains, airplanes, trucks and cars and thus the best environmental balance.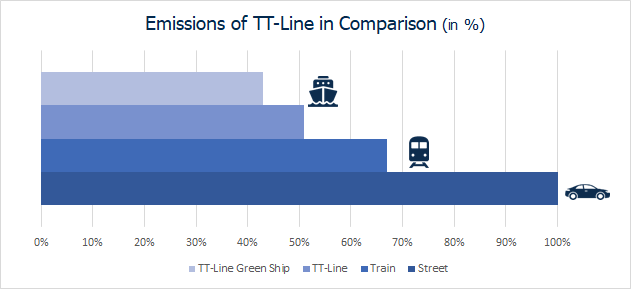 The emission values for nitrogen oxides (NOx), particles and especially carbon dioxide (CO2) per ton of transported unit are on ships well below those of other modes of transport.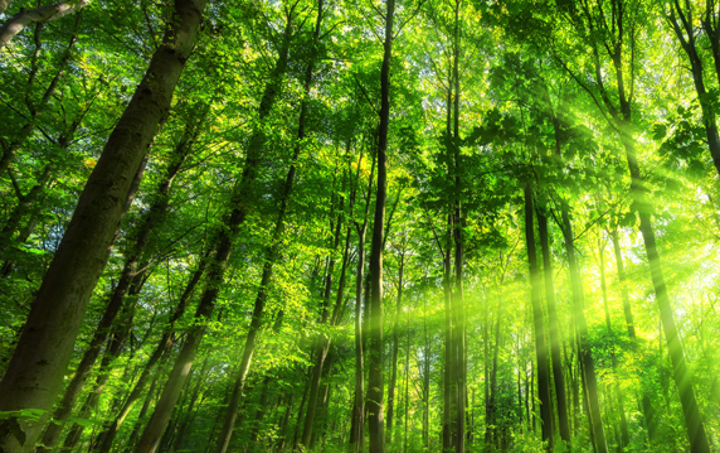 Our Green Ships
With our new Green Ships, the use of sulfur-free LNG means that local emissions such as sulfur oxides and fine dust are almost completely avoided, nitrogen oxide emissions are significantly reduced and CO2 emissions are reduced by another 22%.
Good to know
In the Baltic Sea in particular, strict regulations apply, which are regulated by the IMO (International Maritime Organization). The maximum permitted sulfur content in marine fuels in special sulfur areas (SECAs, SOx Emission Control Areas), such as the Baltic Sea, has been reduced from 1.0% to just 0.1%. TT-Line has been below the limit of 0.1% for years with the entire fleet and with the new Green Ships even at <0.001%.
Our contribution for our nature and the environment
We protect the air
Diesel-electric drives at Robin Hood, Nils Dacke, Peter Pan & Nils Holgersson
Additional installation of pod drives at Nils Holgersson & Peter Pan for up to 15% fuel reduction compared to conventional drives
Wet scrubber on Nils Dacke, Nils Holgersson, Peter Pan & Marco Polo for removing SOx and particles from the exhaust gases
Use of low-sulfur marine fuel
Extension of the Peter Pan by 30 meters and thus a further reduction in emissions per transported vehicle unit by up to 25%
LNG propulsion in the new generation of the TT-Line Green Ships, so that it can be operated with 100% LNG
We are efficient
Energy saving through an optimal lighting concept for the ships
Around 15% less fuel consumption thanks to shorter lay times, consumption-optimized speed management & optimized processes in the ports
Efficient ship operation by trained and experienced crew
Energy saving through the use of heat recovery from the cooling water of the motors
Streamlined hull shapes to reduce fuel consumption
New flow-optimized and fuel-efficient bulbous bow on Peter Pan
Paint with lower frictional resistance for the underwater ships
We protect the water
Wastewater on board is treated to the highest standard in biological sewage treatment plants
Wastewater discharge facilities in the ports of call
Collection of waste water in tanks on board
We handle waste responsibly
Disposal of waste in special disposal facilities in the ports of call
Waste separation across the entire fleet
Container-based disposal system for hazardous waste
We rely on natural resources
Use of biodegradable chemicals & detergents
Reduction of plastic consumption to an absolute minimum
Further engagement
Support in the expansion of a new ferry terminal in Trelleborg including the construction of a waste water collection facility
Support with the expansion of the intermodal terminal in Trelleborg and Rostock
Participation in the "Baltic Future Port" project to increase handling efficiency, save fuel and improve the utilization of ships

Participation in World

Cleanup Day as a contribution to protecting the environment