With the new
Green Ships

newbuilding concept
TT-Line is investing in a sustainable future

Green Ship News
From the initial planning to the final delivery, our newbuildings pass numerous milestones. Here you can follow all milestones in the construction process of the Green Ships.
Experience our new Green Ships
Love and connection to the Baltic Sea guide the interior design of the most environmentally friendly ferry in the company's history. Natural colors and a well thought-out lighting concept create a moody and cozy atmosphere. Large window fronts provide an excellent view of the Baltic Sea, and the outside deck with an area of around 1,200 m² also offers enough space and seating areas to relax and enjoy the fresh Baltic Sea air with a tasty drink or snack. With a total of more than 3,500 m² of public areas, the crossing with the Green Ship is a real experience.
Virtual tour
In our 360-degree tour you can experience all public areas of the ship on deck 9, 10 and 11, such as the sun deck Havsilver, the Trucker Diner or the sports bar Uppsala Bar. In addition, you will also get a glimpse of the ship's cabins!
Cabins
All new, comfortable and modern cabins are equipped with an energy saving unit. Furthermore all cabins are equipped with a TV and free Wifi.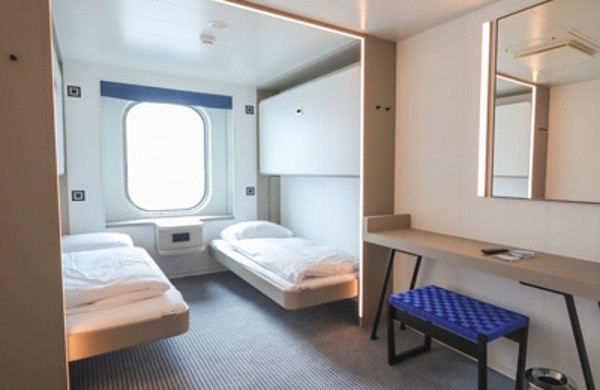 Drivers Restaurant
The Green Ship offers several restaurants. One of this is the drivers restaurant, which is tailored for drivers´ needs and offers additional retreat options.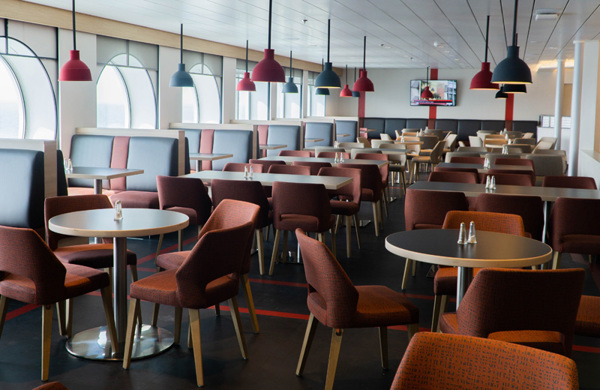 Drivers Lounge
With the Trucker Lounge, drivers have an exclusive lounge with comfortable armchairs and seating to relax. A TV area and gambling area provide additional entertainment options. The private balcony is another highlight of the Trucker Lounge.
Catering on board
Coffee Lounge "Lookout Café"
Restaurant "Captain Akka´s Restaurant"
Family Lounge "Nils´ Lounge"
On board our Green Ships you will find 3 restaurants and 7 bars and lounges. These include the main restaurant Captain Akka's Restaurant on deck 11, the exclusive driver's restaurant Trucker Diner on deck 10, as well as an additional restaurant on deck 10, where you will also find the Smygehuk Bar. Deck 11 includes the Trucker Lounge, the Sportsbar Uppsala Bar, the Coffee Lounge Lookout Café, the Family Lounge Nils' Lounge, the Pet Lounge as well as the bar at our sun deck Havsilver.
Impressions
TT-Line is the first shipping company in the southern baltic sea using LNG (Liquefied Natural Gas), which is currently the cleanest available marine fuel.



Compared to the marine fuel MGO (Marine Gas Oil), the use of LNG reduces CO2 emissions from diesel engines by up to 66% per freight unit

The use of LNG ensures virtually particle-free operation of diesel engines. As a result, TT-Line saves 93% of particulate emissions annually, which has an enormously positive effect on air quality.

By using sulfur-free LNG, TT-Line reduces sulfur oxide emissions (SOx) by 98%. Likewise, nitrogen oxide emissions (NOx) are reduced by 82% without complicated exhaust gas treatment.
Further environmentalfriendly technologies