Travemünde - Rostock v.v.
TT-Line offers several weekly departures on the domestic cruise between Travemünde and Rostock v.v.
The Skandinavienkai in Travemünde and Rostock Überseehafen offer excellent connections to the road and rail infrastructure. In addition to ferry cconnections to Rostock, Trelleborg, Karlshamn and Klaipeda, we can also offer you train connections to important hinterland terminals such as Duisburg (DE), Ludwigshafen (DE), Rotterdam (NL) and Verona (IT). These connections are optimally integrated into our ferry schedule so that we can offer you an attractive intermodal network.
Serving all types of RoRo cargo
| | | | | |
| --- | --- | --- | --- | --- |
| | | | | |
| Accompanied Trucks | Trailer | Container | Dangerous Goods | Temperature - Controlled Goods |
---
Online Booking
With our online booking tool you can book all Travemünde sailings flexible and at any time.
Online Booking

Read more

Mobile Freight Check-In
With TT-Line Freight Check-In, you can conveniently Check-In online before you arrive at the port - discover the easiest way to board in Travemünde now.
Mobile Freight Check-In

Read more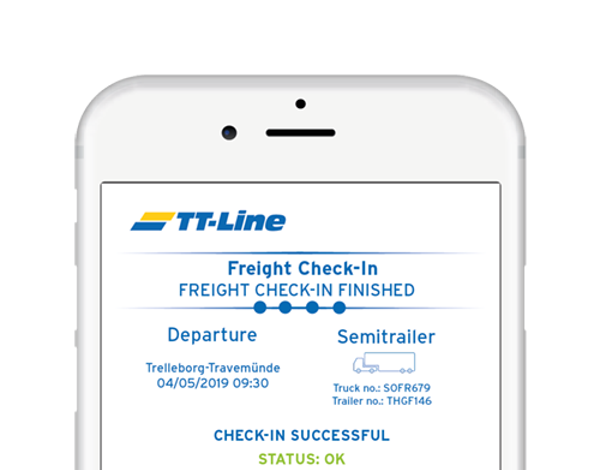 Check-In Procedure in Travemünde

Please find here an explanation of the Check-In procedure in the port of Travemünde.

Opening hours Check-In office Travemünde:
Monday: 17:00 - 02:30
Tuesday: 07:30 - 11:00, 12:00 - 16:00, 17:00 - 01:00
Wednesday: 07:30 - 11:00, 12:00 - 16:00, 17:00 - 02:30
Thursday: 07:30 - 11:00, 12:00 - 16:00, 17:00 - 02:30
Friday: 07:30 - 12:00, 17:00 - 02:30
Saturday: 07:30 - 12:00, 17:00 - 02:30
Sunday: 17:00 - 03:00

Check-In Procedure in Rostock

Please find here an explanation of the Check-In procedure in the port of Rostock.

Opening hours Check-In Rostock:
Monday - Wednesday: 06:00 - 23:30
Thursday - Friday: 06:30 - 23:45
Saturday: 05:30 - 23:30
Sunday: 06:30 - 22:00