Transhipments between Germany and Lithuania
In addition to direct connections between Rostock and Klaipeda as well as Travemünde and Klaipeda, TT-Line also offers so-called transhipment departures. These connections include a ship change in the Swedish port of Trelleborg.
Here you can find important information about the booking, Check-In and the ship change procedure in Trelleborg.
Booking
All connections between Germany and Lithuania are bookable as usual online via our online booking system or the TT-Line Transportticket.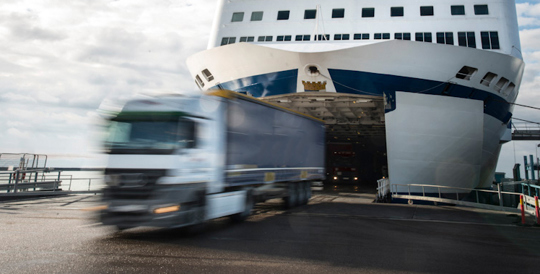 Online Booking
TT-Line Freight customers can easily book their Transhipments between Germany and Lithuania with our Online Booking.
Online Booking

Read more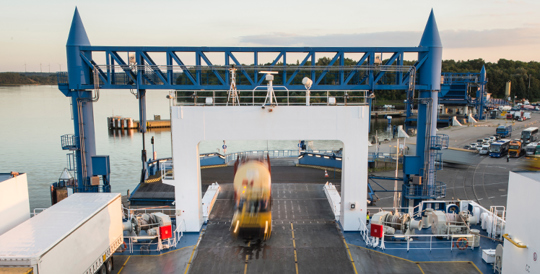 TT-Line Transportticket
Transportticket is the possibility for customers with irregular shipments to book their transports between Germany and Lithuania easily online.
TT-Line Transportticket

Read more
Check-In
Simply report at the Check-In and you will receive 2 boarding cards:
The first ticket is for the first ferry, e.g. from Travemünde to Trelleborg: This boardingcard will be marked with a cross and has to be used to drive inside the harbor
The second ticket is the boarding card and cabin key for the following ferry e.g. from Trelleborg to Klaipeda. Please keep it until the departure of the second ferry. Together with the two boarding cards you´ll receive a destination sign. This has to be placed it in the windshield!
You are now ready to board the ferry for your first journey to Trelleborg.
Transhipment in Trelleborg
Once the TT-Line ferry has docked in the port of Trelleborg, you will disembark the ship as usual based on the crew's instructions.
Outside the ferry a "follow me car" will guide you directly to the second ferry or to the pre-stowage area for transshipments.
Please stay in this area and do not leave the harbor.
The "follow me car" will bring you to the next vessel timely before the departure.
Please use the second boarding card for boarding and as a cabin key to take the ferry to your final destination port.
All information at one glance

Here you will find an overview of the transshipment process. Feel free to print it out and give it to your truck drivers.
Check-In Procedure Klaipėda

Please find information regarding the Check-In procedure for Freight at the Klaipeda Kontainer Terminal here:

Trailer Check-In Klaipėda

For the easy process, here is a guide to the trailer check-in procedure at Klaipeda Kontainer Terminal.