Hur kan jag ändra min bokning?
Vi ser fram emot att välkomna dig ombord på en av våra färjor snart! Här hittar du instruktioner om hur man bokar och ombokar resor online, och vad du kan göra inloggad på Mitt TT-Line.
Ytterligare information hittar du i vår Kundservice.
Skapa nytt konto
Vill du skapa ett konto på Mitt TT-Line och ta del av fördelarna i vår kundportal? Detta kan du göra medan du bokar en resa eller i en separat registrering
Skapa konto när du bokar en resa
När du har gjort dina val i onlinebokningen behöver du fylla i dina uppgifter som passagerare:
Klicka på Boka nu och sedan på 'Jag har inget kundnummer'. Fyll sedan i dina kontaktuppgifter och information om passagerare.
Klicka i rutan 'Registrera dig på Mina sidor på TT-Line för att hantera din bokning'.

Välj ditt lösenord Mitt TT-Line konto.

Fortsätt sedan igenom bokningsprocessen.
Efter slutförd bokning/registrering kan du logga in på Mitt TT-Line och hantera din bokning när du vill.
Skapa konto i separat registrering
Klicka på den gröna knappen 'Registrera nu' i fältet 'Skapa TT-Line konto'.

Fyll sedan i dina personuppgifter och välj ett lösenord.

Markera i rutan att du accepterar TT-Lines allmänna villkor och integritetspolicy.

Tryck på knappen 'Skicka'

Nu kan du logga in på Mitt TT-Line med din e-mail och ditt lösenord och använda alla funktioner i portalen.
Boka resa online
Den här videon visar steg för steg hur du bokar din resa online, alltifrån hur du väljer destination och avgång, till slutförd betalning.
Välkommen ombord!
Rebooking made easy!
Edit an existing booking
Would you like to make changes to your trip, cabin or on-board services? Here you will find a detailed explanation of how to make a rebooking in the My TT-Line member area.
You will find an overview on all of your active and past bookings on the page "My bookings". The booking with the most current departure date will be on top of the list.
If you want to look at bookings prior to today's date, please change the start date and click "Search".
To look at the details of a specific booking, please click the pen icon on the right-hand side.
Would you like to rebook your journey, add or change a passenger, a cabin or meals? Just click "Edit booking".
Do you want to receive a copy of your travel documents?
Please click the button "booking confirmation" to download your confirmation as a PDF-document.
In order to edit your outbound or return journey, please click "change".
Choose your new departure date, departure time resp. ship and your preferred ticket type.
Attention: Please keep in mind that outbound and return journey are dependent on each other. If you want to rebook your trip to a later date, you should first adjust the return date in order to be able to change the outbound date flexibly.
We kindly ask you to observe that depending on the change other parts of your booking may have to be adjusted as well (e.g. addition of passengers may lead to a different cabin category). These are marked with a white warning triangle.
Please note that changes within a part of the journey have to be finished bevor moving onto editing other parts.
If you want to add or change a cabin, click onto the segment "cabins" and click the "+" or "-" sign to adjust any cabins on your outbound or return journey.
The new total price as well as the price of any changes will be displayed below.
We kindly ask you to observe that depending on your ticket type, a rebooking fee may apply. This fee will be displayed in the next step.
Are you done with all changes? Please click "Next".
On this price breakdown page, your booking with the changes are list das well as any applicable fees.
Is everything okay?
Please choose your preferred payment method and click "Book".
You will be re-directed to the payment page.
Please follow the instructions.
As soon as we have successfully received the payment, you will see your new booking confirmation.
The differential invoice will be sent in a separate email.
Welcome onboard!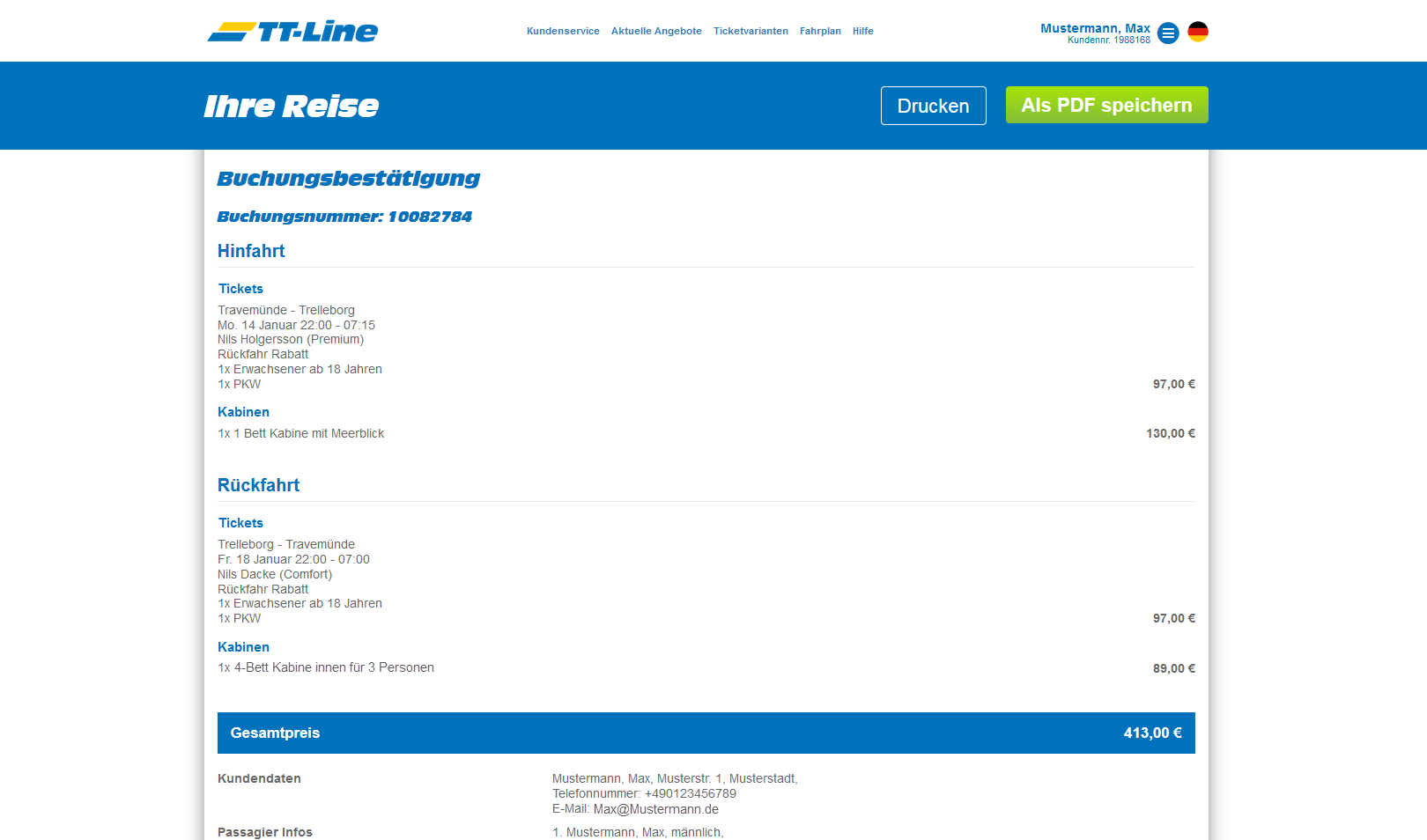 Explanations for all functionalities
Log in with to an existing account
Here you will find an explanation of all areas, advantages and functions of My TT-Line. Starting with the registration, you will learn everything about your booking, the Online Check-In, the Bonus Card system and your own profile.
My TT-Line Account
You have already registered for "My TT-Line" during the booking process or otherwise?
Please select in the member area the preselected tab "Registered customer".
Enter your registered e-mail address and your password.
Click the green "Log In" button.
You have forgotten your password?
Click on "Forgot your Password?" directly under the "Log In" button.
My TT-Line Opportunities
You are now in the logged in area and can use the following functions:
My Bookings
My Online-Check-In
My Bonus Card
My Profile
The exact possibilities of each function can be found directly under the four menu items. To select one of the options, click on the respective area.
My Bookings
In the section "My Bookings" you'll find an overview of the trips you have booked with TT-Line since you have registered.
One of the trips does not show up?
Change the time period set above.

You would like to view all details of a booking or to edit a booking?
Click on the pencil under "Details & Edit" column on the right of the table. Now the detailed view of your booking will open. There you'll find all information about the booked components as well as your passenger data. The following buttons are located at the end of the booking overview:

"Booking confirmation" to download the booking confirmation as a PDF-file
"Edit booking" to edit your booking
"Cancel" to cancel your entire booking
"Check-In" for check-in from 48 hours prior to departure.
My Online-Check-In
In the section "My Online-Check-In" you'll find information about check-in times and how to get to the various ports. From 48 hours before departure you can also use the green "Check in now!" button to check in online for your trip. Here you confirm all travel details again and receive a boarding confirmation, which you should carry with you when you start your journey.
My Bonus Card
In the section "My Bonus Card" you can register as a Bonus Card customer or manage and redeem your collected points.
For registration
Click the green "Become a Bonus Card customer now!" button
Enter your personal details and, if available, your booking number
Agree to the conditions by ticking the appropriate boxes. After having completed the form
Click on the green button "Send Bonus Card application".
A message will appear indicating that your application has been successfully received by TT-Line.
My Bonus Points
As a successfully registered customer for the Bonus Card, you can open the "My Bonus Card" section and find an overview of your previous trips as well as collected and redeemed bonus points.
The "Bonus points calculator" shows you an example of how many bonus points you'll receive for a certain travel price. For a travel price of € 500, for example, you receive approx. 4500 bonus points.
Are you missing bonus points in the overview?
Click on "Request missing bonus points" and use the form that opens to send us your request
Send it by clicking on the green "Send request" button.
Please note that the bonus points will only be credited to you after your trip.
Under "Reward list & Redeem bonus points" you'll find an overview of your rewards.
At the bottom of the page you'll find instructions on how to redeem your bonus points.
My profile
In the "My Profile" area you can view and change your profile data.
If you would like to change data
Enter the data you would like to change
Click on the green "Save changes" button to save the new data
You can also change your password.
Click on "Change password?" in the bottom left corner
Enter your old password as well as your new password twice
Save it by clicking on the green "Submit password change" button.
An exception is your e-mail address. You can only change your e-mail address by calling our customer service on +49 (0)4502 801-81.
Functionalities without having an account at My TT-Line area
Login without registration
You do not have an account for "My TT-Line", but would like to edit or cancel an existing booking? In this case please
select the tab "Without registration" in the member area.
Enter the e-mail address you used when booking as well as your booking number.
Find your booking number in your booking confirmation, which you have received by e-mail.
Click on the green "Verify now" button.
Edit booking
You will receive a six-digit verification code by e-mail.
Enter it in the number field on the website.
Click on the green "Log In" button.
You have not received a verification code by e-mail?
Click on "Resend verification code? Click here." directly under the "Log In" button.
You are now in the logged in area, where you can edit or cancel your booking.
It is also possible to check in online in this area.
Your booked departure is ready for online check-in 48 hours in advance. To edit your booking
click on "My Booking" and select the pencil button at the end of the booking overview to edit "Edit booking" or to cancel "Cancel".