Happy New Year!
New Year's Eve on board our Sweden ferry - A very special place to welcome the new year 2022

New Year on the Baltic Sea
Would you like to celebrate a very special New Year's Eve? There is nothing better than celebrating New Year's Eve on board our Swedish ferry Nils Holgersson!
You can enjoy the food, celebrate as if there is no tomorrow and dance as long as you can. Start in the new year 2023 while parting in the middle of the Baltic Sea. Enjoy an all inclusive party night in a special location from 275 € per persn. We look forward to welcome you and your party crew on board.
We are happy that you are interested in our New Year's Eve cruise and would like to welcome you on board. So far, all cabins are fully booked. We will gladly put your booking on the waiting list and you will receive your travel confirmation as soon as a cabin becomes available.
Music (DJ) and dance

All drinks included (except champagne) throughout the trip

New Year's Eve buffet incl. drinks (Captain's Buffet)

Midnight snack

Brunch on New Year's Day incl. drinks

Cruise on the Baltic Sea

Bed in 4-bed cabin inside throughout the trip (cabin upgrade available at additional cost)

Car transport (max.6m) optionally bookable
31.12.2022 (Saturday): Welcome on board!

From 18:00 o'clock embarkation in Travemünde, cabin occupancy and welcome by the tour guide
19:30-22:30 New Year's Eve buffet
From approx. 22:00 opening of the dance floor and music (DJs)
11:00 pm New Year's Eve cruise on the Baltic Sea in the Bay of Lübeck
24:00 Welcome of the New Year on the sea overlooking the Bay of Lübeck
01.01.2023 (Sunday): Hey new year 2023!

01:00 Midnight snack
Until approx. 13:00 o'clock New Year's brunch
* preliminary itinerary and course of events
Good to know:
✔ Bookable according to availability
✔ Minimum number of participants: 400 persons
✔ Including environmental surcharge
✔ Not combinable with other discounts, coupons and campaigns
✔ No cash payment possible
✔ * Price is valid for 4 occupancy
✔ Cancellation up to 60 days before departure free of charge, for cancellations from the 59th to the 8th day before the trip 50% of the travel price cancellation fee, from the 7th day before departure, in case of no-show or cancellation on the day of departure 80% cancellation fee
✔ Cabin categories, on-board facilities and services may vary depending on the type of vessel
✔ Binding booking via our booking form (link) or under 0180 6666600 (landline 20 ct./call from a German landline; Mobile radio max. 60 ct./ call from the German mobile network)
✔ Please have your valid passport or identity card of an EU country with photo ready. Transport without valid identity documents is not possible.
✔ This package is a package holiday. Please refer to the EU Package Travel Form.
✔ Please note the information on check-in, departure and arrival time on your travel confirmation.
New Year's Eve party and vacation at sea - All inclusive on board - DJs playing music on three different dance floors
Everything at a glance
✔ New Year's Eve party on the sea in front of the Bay of Lübeck
✔ All inclusive on board
✔ Djs
✔ 3 different dance floors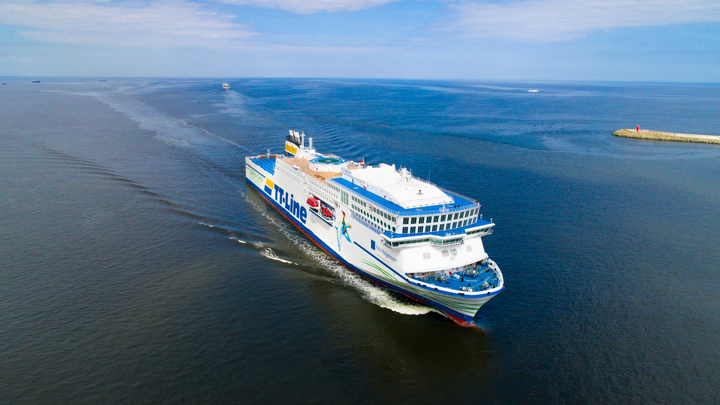 Discover our Sweden ferry
Your holiday on board Nils Holgersson! Look forward to Swedish specialities in our on board restaurant and drinks in our Panorama bar with a wide view over the Baltic Sea. Have a look at our Shop on board and discover a wide range of products such as Swedish sweets, perfumes, souvenirs and many other things.
Prices per person
Adult
4-bed cabin inside (included)

275€

2-bed cabin inside (supplement p. cabin)

20,00€

2-bed cabin outside (supplement p. cabin)

40,00€ - sold out

4-bed cabin outside (surcharge p. cabin)

40,00€ - sold out

2-bed VIP cabin (surcharge p. cabin)

60,00€ - sold out

4 Bed Exterior Family Cabin

100,00€ - sold out

Car transport

15,00€
Child 3-14 years
4-bed cabin inside (included)

169€

2-bed cabin inside (supplement p. cabin)

2-bed cabin outside (supplement p. cabin)

4-bed cabin outside (surcharge p. cabin)

2-bed VIP cabin (surcharge p. cabin)

4 Bed Exterior Family Cabin

Car transport
| | Adult | Child 3-14 years |
| --- | --- | --- |
| 4-bed cabin inside (included) | | |
| 2-bed cabin inside (supplement p. cabin) | | |
| 2-bed cabin outside (supplement p. cabin) | | |
| 4-bed cabin outside (surcharge p. cabin) | | |
| 2-bed VIP cabin (surcharge p. cabin) | | |
| 4 Bed Exterior Family Cabin | | |
| Car transport | | |