Conference package Basic Meet & Mix
Customize your own conference package and choose the meals that suit your conference best. The basic price includes a one-way day departure from Germany or Poland and while your team conducts the conference, we will take you to Sweden. You may choose whether the conference journey with TT-Line ends in Sweden or if you also book the return journey with us. You can choose to book the return journey as a day departure with even more time for a conference on board or a night departure where the participants sleep well in our comfortable cabins on the way back to Germany or Poland. We are also happy to help with hotel bookings in Sweden.
Welcome on board!
1 person*

1 day crossing

Coffee & Tea

Conference drinks & Fruit

Return journey as night departure optional
Book now
*offer valid for 8 paying persons
Day 1

In the morning boarding and departure

Conference in the meeting room

In the afternoon arrival in Trelleborg

Options return trip

Alternative 1: Night departure as return journey. No possibility for further conference.

Alternative 2: Return journey with the same ship (possible on some departures). Conference possible during the return journey.

Alternative 3: Book a hotel in Sweden via TT-Line and book a day trip home the next day. Conference possible during the return journey.

Alternative 4: You will arrange the return journey yourself in another way.
Overnight stay in Sweden? - We are happy to book the hotel for you!
Travel dates
Included in conference package "Meet & Mix"
1 day trip Travemünde/Rostock/Świnoujście-Trelleborg
Conference Drinks and fruit during the conference
Coffee & Tea in the confernce room
Free high speed Wifi
Options:
Night departure as outward journey or return journey.
Feel free to send a request for a hotel reservation!
Price in €
Conference package Meet & Mix per person* Świnoujście-Trelleborg
30 €
Conference package Meet & Mix per person* Travemünde
45 €
Rent conference room & use of our equipment
200 €
Surcharge for bus transport
250 €
Surcharge for car transport
40 €
Hotelreservation in Sweden
On request

Optional meals

Fees apply in case of short-term cancellation

Breakfast buffet

Travemünde / Rostock: 13,00 €

Świnoujście: 10,50 €

Baltic Lunch

Travemünde/Rostock/Świnoujście

3-course menu: 17,50 €

Baltic Dinner

Travemünde

3-course menu or buffet (incl. 1 drink, wine/beer/soft drink): 24,50 €

Świnoujście and Rostock

3-course menu: 17,50 €

For other requests contact us!
*Minimum number of participants 8 persons
Additional supplements according to standard group tariff

The travel conditions for group trips with TT-Line apply.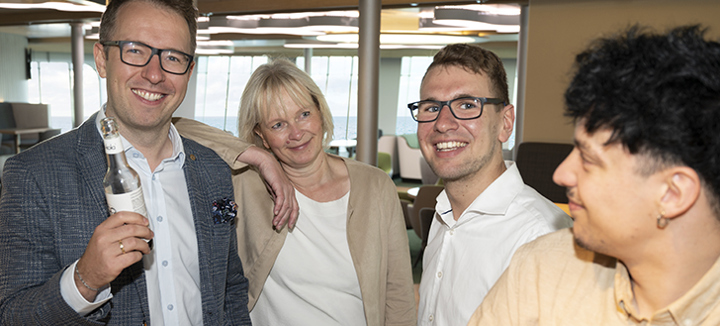 Tips & information
Read more about our best tips and information about topics that are useful to know when planning a conference on board one of our ships.